Farmers` long march to the city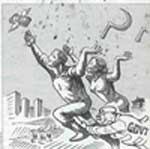 THE CHINESE government has been forced to take some drastic measures to assuage the country's long-suffering farmers, who are moving to the cities in droves in search of more money. For one, it has forbidden the construction of new golf courses and horse-racing tracks -- symbols of a "decadent" Western society that have nevertheless become a rage in the country.

This unprecedented exodus has given China a food crisis that it might find ill-equipped to handle. Soaring food prices and severe shortages forced the government to ship 700,000 tonnes of grain to the densely populated cities of Beijing, Shanghai and Tianjin, and even to some provinces that have been China's grain baskets.

The situation has been worsening steadily, leading agriculture minister Liu Jiang to warn that by 2000, there would be about 300 million surplus "farmers". For more than two years, the 800 million peasants of the country have been seething with discontent. They are required to supply pre-determined quantities of grain at state-controlled prices, but the central treasury is so severely depleted that the peasants are paid in IOUs that are often not redeemed.

Gross misuse
Peasants claim that officials use state funds earmarked for farmers' salaries to throw lavish parties and buy cars. Rural riots broke out in every corner of the country in protest. The fears of disorder are so great that armed police now patrol Beijing.

By imposing the golf and racing bans, the government has admitted to the existence of the crisis. Its decree says: "Since the amount of land available to the state each year is limited, every inch of land should guarantee the interests of the state." However, now that the government has taken some decisive steps, the situation is expected to improve.
Related Content