Free for all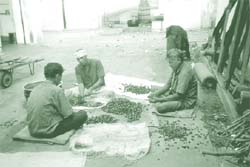 the rich treasure of India's medicinal plants is ready to be traded. S C Sharma, additional inspector general of forests (wildlife) in the ministry of environment and forests ( mef ) has announced the permission to export more than 1,000 herbs from the wild. "Wild' herbs include those found in forestland and fallow areas. Traders now do not require a legal procurement certificate from forest authorities, which means that they can freely ship the herbs out of the country.

The step is meant to increase India's stake at the international market of medicinal plants, which is at present a meagre 0.5 per cent, while the market runs to the tune of us $6 billion. The herb traders lobby had been exerting pressure on the mef and the commerce ministries for some time now.

The traders' have been rewarded but the decision could have serious repercussions on the country's biodiversity. "Any move to open up exports of herbs is dangerous and unwarranted,' says AshishKothari, director of the Pune-based non-governmental organisation, Kalpavriksh.

The World Conservation International's Red List of Endangered Plants has listed over 1,236 species of herbs found in India as "threatened'. But only 114 species have been kept out of the list of free exports. "Rare species of herbs face mass extinction in view of recent changes in export policies,' says Issac Kehimkar, spokesperson of the Bombay Natural History Society, Mumbai.

"The 114 species that are off the export list are presumably species determined by the Botanical Survey of India ( bsi ) to be threatened or endangered,' he adds. But even bsi will admit that these are based on probably inadequate research and that perhaps the number that should be off the list should be much higher, says Kothari. He stresses on the fact that data on the ecological status of most herbs is extremely low.

Environmentalists are worried over the fact that the raw materials shipped out of the country may be used for research on various drugs. This will come back to the country as manufactured products, on which pharmaceuticals may claim patents. Besides, it also means a major loss to indigenous people, who have the knowledge to process herbs and turn them into a variety of products. A sustainable plan where local communities and the government could join hand would have reaped benefits for both the parties.
Related Content