Holding water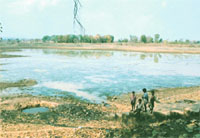 Melchhamunda is an oasis in the parched western Orissa. The village in the Bargarh district is fighting the drought with its 400-year-old pond that still contains water. The village depends on agriculture for survival and is only source of irrigation is the around 10-hectare Kata. As Deepak Bhoi, a resident of the village, says, "It is the Bhata Handi (rice bowl) of the village'.

This tank along with another one downstream irrigates 75 per cent of the village's 323 hectares of agricultural land. Except in 1979, the villagers did not witness a severe drought, and this year due to the deficient rainfall one of these structures has dried up.

People believe that the nearby Budha Dangar forest, protected by the neighbouring village, has assured many perennial streams, which in turn not only recharges the groundwater, but also feed the tanks. Interestingly, 40 years ago the village residents built a check dam on one of these streams from the forest without any help from the government. This check dam irrigates 80 hectares of land and the remaining water is put in the tank, thus ensuring water round the year. This year water from the stream has been supplied to different small traditional tanks for irrigation purposes.
Related Content