Tankers from hell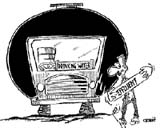 For the people of Patancheru and Bollaram in Medak district, what goes around comes around. But with an evil twist. At night, tankers are used to carry effluents to the neighbouring state Karnataka, which is about 25 km away, or to far-off places for dumping. The same tankers supply drinking water in the daytime. Owners of the tankers are paid as much as Rs 6,000 for each trip to dump effluents.

Sometimes, chemical formulations are mixed in the wrong proportion. Such batches of chemicals cannot be used for making a product and are discharged through tankers. Michael Mazgaonkar, an engineer based in Bharuch district of Gujarat, says the same practice is rampant in Gujarat as well. The chemical oxygen demand (COD) of these effluents has been found to be as high as 150,000 mg/l and levels of total dissolved solids (TDS) around 80,000 mg/l. For industrial effluent, COD levels should not exceed 250 mg/l and the permissible limit of TDS for drinking water is 500 mg/l.

The quality of the effluents is such that that they cannot be treated anywhere. "Once, we found that a tanker's metal corroded when we allowed it to stay in the police station,' points out an official of the Andhra Pradesh Pollution Control Board (APPCB). Washing the tankers with solvents is not a common practice. Even if they are, it does not clean effectively, APPCB officials point out. "People who drink water supplied by these tankers complain of many health problems,' comments an APPCB official.
Related Content