Will a legal solution settle the issue?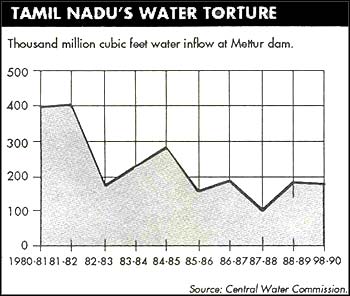 THE MAN who moved the Supreme Court in ???? to constitute a tribunal to solve the dispute over the Cauvery waters between Karnataka and Tamil Nadu was S Ranganath, secretary of the Tamil Nadu Cauvery Delta Farmers' Association. Says Ranganath, "A legal solution had to be found. We had no other choice."

In February 1990, when the writ came up for hearing, the Supreme Court asked the two states to reach a settlement by April 24. Talks to this end failed and Tamil Nadu declared it was not prepared to negotiate further. The court then ordered the Union government to constitute a tribunal.

The Cauvery Water Disputes Tribunal (CWDT) was formed on June 2, 1990. In its petition before the CWDT, Tamil Nadu wanted Karnataka not to impound and utilise Cauvery river waters in excess of "what it was on May 31, 1972" and not to undertake new irrigation projects without Tamil Nadu's consent. It also wanted Karnataka to make timely and adequate releases of water into the Mettur reservoir on a weekly basis. Tamil Nadu supplied CWDT with data on water inflow into the Mettur dam on the Cauvery between 1980 and 1990 (See chart).

The CWDT, through an interim order dated June 25, 1991, directed Karnataka not to increase the area irrigated by the Cauvery beyond the existing 453,600 ha. The tribunal said pending final adjudication, it wanted to preserve the rights of the parties and prevent any unilateral action. The tribunal also stated the interim order was guided mainly by considerations of balance of convenience and maintenance of existing use of the river and its final orders would aim at distributing the Cauvery waters on a fair and equitable basis.

The tribunal directed Karnataka to ensure that 205 thousand million cubic feet of water was made available in Tamil Nadu's Mettur reservoir every year till a settlement was reached.

The interim award provoked a massive uproar in Karnataka. The Karnataka government rejected it and promulgated an ordinance appropriating all Cauvery waters in the state to its exclusive control. The Supreme Court rejected the ordinance as unconstitutional.

Meanwhile, violence broke out in Bangalore and other parts of Karnataka and Tamilians were targeted. On April 3, 1992, the tribunal clarified the 205 TMCF Karnataka had to release could be revised in years of poor rainfall. Fortunately, 1991 and 1992 were good monsoon years, leaving a large stock of water in Mettur and both states happy. However, with poor and delayed rains in 1993, the political crisis has broke out again.
Related Content