Chilika documentary fails to make a point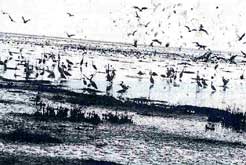 It is perhaps a comment on how strident documentary film-making has become that one is puzzled by a film on a newsy, controversial subject that fails to make a point.

After watching Chilika -- The Story of a Lagoon, one wonders what the film-maker set out to do. With an omnibus approach, the film begins by literally enacting legends associated with Chilika -- about its formation, its geography and its brackish waters that provide a perfect habitat for a variety of birds. The film offers dollops of ornithological information and then gets down to discussing the natural processes that are causing the lagoon to shrink.

The film comes at a time when there is general concern about the shrinking of the lagoon and the Rs 20-crore prawn project being floated by the House of Tatas. But Oriya film-maker Prithwiraj Mishra, whose documentary took three years to make, sees no reason to let these concerns dominate his film. His objective, he says, was to make a comprehensive documentary on the environment and it gives "a very comprehensive account of what goes on in Chilika".

So comprehensive, in fact, that someone wanting to know about the ecological processes undermining Asia's largest brackish-water lake, would have to sit through a seemingly endless dissertation on the different birds that visit the lake. The material in the film could quite easily be reorganised into a number of short, cohesive films, aimed at different audiences.

Mishra says he wanted to make a film for the layperson, but neither did he want to disappoint the expert. He has wound up probably making both impatient. In many ways it would have made a wonderful film for schoolchildren, but at 70 minutes, its too long for them.

In terms of research and photography, the film is impressive. It seeks to capture the geography of the lagoon in different seasons, the lake's many moods and the variety of feathered and human life it sustains. The processes of organic decay and putrefaction that are reducing the water surface are skillfully woven into the commentary. The decay that is killing the lake is also the attraction that draws 150 bird species to Chilika to feast on a variety of plant and animal food.

The future of Chilika as a lagoon is something the film-maker tackles only at the end. Mishra suggests one solution to preserve the lagoon's brackishness and infuse it with fresh life is by cutting channels to the sea. But such a drastic solution cannot come at the tail end of a serious film; it should be discussed at greater length in all its aspects.

The Orissa government financed half the cost of this film. Its commentary, written by Mina Mishra (who also did a lot of the photography) and the film itself have a Films Division flavour to it -- skillfully made, but too general.