`No plastic bags, no landslides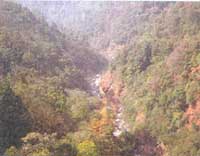 Seventy-year-old Aitamai has lived in Sichey Basti on the outskirts of Gangtok for over 40 years now. "But I have never seen such a bad landslide," she says, referring to the one that devastated her house in 1996. Aitamai remembers with horror the day the otherwise-calm jhoras (rapids) that criss-cross the town washed away mountain slopes and brought life to a standstill.

Aitamai blames plastic bags. -Plastic, plastic," she says, groping for words to express the enormity of the devastation that plastic bags brought to her home. They clogged the streams and choked the sewage system of Gangtolk- And when the gushing waters finally broke free, they swept away mountain slopes in Sichey Basti. This is when the chief minister passed a law banning the use of plastic bags in Gangtolk.

"Chanaling has been successful in convincing even the illiterate masses that plastic bags were responsible" says Tashi Tsering of the Gangtok-based NGO Concern Sikkim. While it is one thing to understand the problem, it is anotherthing to do something about it. Though there are a few shops which use paper bags, many others continue to use plastic bags. The chief minister blames bureaucrats for failing to implement the law.

However, plastic bags were not the only reason for the landslides, says P Mukherji, director, Geological Survey of India (GSI) in Sikkim: "Sikkim is geologically unstable. It is formed of much younger rock so any unplanned construction activity can spell disaster." Chamling has already banned the allotment of land for private construction in the state capital. Instead, a satellite township at Rangka, 10 km off Gangtok, is being built. Besides, the construction of a waste management plant in Ranipul, 10 km from Gangtok, is in progress.
Related Content