Nature s wrath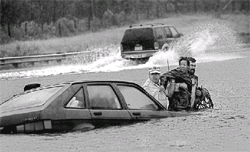 hurricane Floyd, which struck eastern North Carolina on September 17, has so far claimed more than 31 lives and rendered thousands homeless. Almost two-thirds of the state has been virtually paralysed and many towns have been completely submerged.

A state of emergency has been declared in 28 counties. According to officials estimates, the agricultural losses could exceed us $1 billion. The total damage could be more than the us $6 billion inflicted in 1996 by Hurricane Fran, said Lee Witt, director of the Federal Emergency Management Agency. "Hurricane Floyd is one of the largest and the strongest storm in history to hit the us coast,' says Jonathan Gottschalck, a research associate in meteorology at the University of Miami's Rosenstiel School of Marine and Atmospheric Science. Like Hurricane Andrew, which killed 40 people and left 160,000 homeless in 1992, Hurricane Floyd is a Category Four storm on the verge of becoming Category Five, the most powerful in the categorisation, he added.

Government officials have, in the meantime, warned about extraordinary environmental damage. They cited threats to public health from water supplies contaminated by industrial chemicals from flooded factories and the carcasses of livestock. "We have got flooded wastewater treatment plants. There are also warehouses and industrial facilities that must be leaking. We have no idea what they are,' said Donald Reuter, a spokesperson for North Carolina's department of environment and natural resources. "We have no (running) water, and the waters are still rising. They are still finding bodies floating,' says Hattie Stocks, a resident of the state.
Related Content