New terminal for Mumbai port faces criticism from urban planners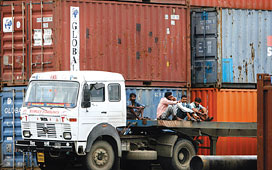 mumbai port is set to expand. The Cabinet Committee on Economic Affairs has given it the clearance to build an offshore container terminal, which will facilitate handling of large container vessels at the port. Mumbai Port Trust officials are happy because the Rs 1,228.39-crore project will add capacity of 9.6 million tonnes per annum to the port. Urban planners and activists, however, had hopes that some portion of the port land would be given to the city.

According to the Urban Design Research Institute (udri), a Mumbai-based ngo, the city has 0.01 ha of open space per 1,000 people, against the international norm of 1.6 ha per 1,000 people. There has been a longstanding demand that Mumbai Port Trust share some of its land with the city so that it can grow in a planned manner. But the port trust, which owns over 728 ha, says there is no land to share.

"Land claims are based on faulty data. Cargo traffic has increased from 27 million tonnes in 2000-01 to 52 million tonnes in 2006-07. We are, therefore, going for an expansion,' a senior port trust official said during the recently held Urban Age conference in Mumbai.

The clearance has come as a surprise for the state because it had planned an eastern waterfront project in 2002. In 2005, Study of Mumbai's Eastern Waterfront, a report by Mumbai-based Kamala Raheja Foundation and udri, said significant containerized shipping activity had shifted to Nhava-Sheva, the largest port in India. The report, which was commissioned by the state government's task force, had asked for a public planning strategy for the redevelopment of dockland for the waterfront project.

T R Baalu, Union minister of shipping, road transport and highways, said the report was based on "old data which needs to be updated'. The ministry has prepared a National Maritime Development Programme with plans of investing Rs 100,339 crore in 387 identified projects in the port and shipping sectors in the next 20 years, of which the Mumbai port is an integral part.

The port trust entered into an agreement with a private consortium consisting of Gammon India Ltd, Gammon Infrastructure Ltd, and Madrid-based Dragados spl for the terminal project. It will invest Rs 862 crore in the project, and the port trust will invest Rs 366.39 crore.