"Goats must go"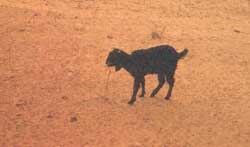 A N CHATURVEDI, former chief conservator of forests of UP and now with the Tata Energy Research Institute, New Delhi, is appalled at the attempts to glorify the goat. According to him, the animal should have no part in the natural environment.

Goats attack the foliage of trees and bushes, says Chaturvedi. What is left after they have finished is then lopped off by local people. "We are thus attacking the very vitals of the plant system, by overlopping leaves, destroying the photosynthetic ability of plants and preventing food production by them," he warns.

According to him, India's capacity to carry livestock has also been severely exceeded. "Our grazing and forest lands can sustain only around 50 million livestock heads, but today some 450 million livestock roam around. And of them, goats are increasing at the fastest rate," he elaborates.

Goat-keeping provides some return to the poor today only because, as Chaturvedi asserts, they are exploiting public resources to meet their personal needs. "Goats must go or at least be allowed only restricted access if this country's natural wealth is to be conserved for future generations," he reiterates.
Related Content