Odessa defiled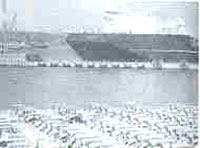 IN THE economy versus ecology conflict now troubling Ukraine, it is amply clear that economy is coming first. Undeterred by vociferous protests from environmentalists apprehensive about the future of the Black Sea, Ukrainian President Leonid Kuchma has declared "categorical" support for an oil terminal to be built near the port city of Odessa. Although parliamentary approval is still awaited, the government has a strong case for the project: it can no longer depend on Russia for its oil supplies.

The environmentalists don't buy this argument. According to Valery Mikhailov, director of the Ukrainian Scientific Centre of Marine Ecology, the project is "a disaster for Ukraine". He says that the country has failed to carry out an environmental impact study required by a declaration signed by 6 Black Sea-rim states, reported Financial Times on December 21, 1994.

Other opponents of the plant argue that 80,000 annual visitors to Odessa each summer risk being exposed to the dangers of oil terminal leaks and tankers dumping ballast water into the harbour. The ecosystem, too, they point out, will be under siege soon, since about 60 per cent of the Black Sea's fish and 70 per cent of its biomass reproduce on the Odessa's banks.

The opponents have now formed a committee to block the project. Unfortunately, the Odessa city council's truculent declaration that the land cannot be used for the terminal was overruled by the national parliament.

Environment has been a major casualty in all the Black Sea-rim states -- Ukraine, Russia, Bulgaria, Romania, Georgia and Turkey. Although they approved a Black Sea Convention last year, setting up a legal structure to tackle maritime pollution, the collapse of the erstwhile Soviet Union has reduced all of them -- with the exception of Turkey -- to virtual bankruptcy. "They all express the same kind of impotence," says Laurence Mee, head of the Environment Management and Protection Programme of the Black Sea in Istanbul. "You cannot do anything about the environment when you have an economy that cannot afford it."

The environmental assault on the Black Sea is nightmarish. Industrial wastes from 17 Black Sea-basin countries flowing in through several large rivers, like the Danube and the Dnieper, has killed fish and destroyed animal and plant life. Oil, toxic wastes and ship ballast water regurgitated around the Black Sea rim causes further deterioration.

Ukraine, like the other Black Sea-rim states, is trapped in a Catch-22 situation. Although debates have often centred on substituting tourism for industry on the Black Sea coast, the poor environment has dampened such visions.

Ecotec, a UK consultancy, believes that to boost tourism, the local administration will have to do a far better job of tourism planning and coastal zone management along Ukraine's 2,500 km coast. That may be an easier option than the mindless destruction of rare idyllic resorts like Odessa.