Playing hooky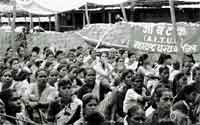 gopinath Munde, deputy chief minister of Maharashtra wriggled out of a much awaited and thrice-postponed public debate between the state government and opponents of the controversial Enron Power Project.

"It was an opportunity for the government to publicly debate a contentious and crucial issue. But Munde has gone back on his word,' clarified Sanjay M G of the National Alliance of People's Movement. Despite Munde's absence, the debate went on as scheduled with anti-Enron activists arguing their points against empty chairs. A few thousand people from local villages, the Konkan area, and other parts of Maharashtra braved the harsh weather to attend the debate which was held near the project site.

"People desperately wanted this debate to happen. They saw it as an opportunity to understand both sides. But by squirming out of the debate, Munde has made it clear that the government does not have the confidence to support their claims in favour of the project. People rightly feel insulted and betrayed,' said Sadanand Pawar, activist and an opponent of the project.

Local representatives from across the political spectrum were particularly upset that despite personal promises from chief minister Manohar Joshi and the Shiv Sena leader Bal Thackeray, the government representatives pulled out of the debate at the twelfth hour. The local Shiv Sainiks and bjp cadre said they felt terrible let down by the "cowardly behaviour,' of the bjp -Shiv Sena government.
Related Content