Mayhem in Wynad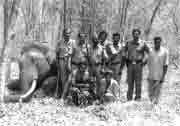 According to recent reports, as many as 50 elephants were killed by poachers in Kerala over the past three to four months. Forest officials in Wynad suspected the number to be even higher. They admitted that it was easier for the poachers to escape across the state boundaries as there was very little coordination among the field staff of the region.

Wynad wildlife sanctuary, bordering Bandipur in Karnataka and Mudumalai in Tamil Nadu, has for quite some time, been in the news for poaching, sandalwood smuggling, hide trade and hemp cultivation. The field staff of the sanctuary said that as there are no more mature elephants left in the region, the poachers have resorted to the killing of cubs. Even females are being killed for the rudimentary tusk formation in them.

This has resulted in a skewed sex ratio in the herds, say experts. R Sukumar of the Indian Institute of Science, Bangalore, said that not many males were to be seen in a herd and that the current sex ratio of the pachyderms in the sanctuary stood at 1:9. This was, however, refuted by the state forest department. Observers have also reported encountering mature male elephants without tusks. They presume that this is a natural defence mechanism of the animal.