Using electricity to draw out pollutants from soil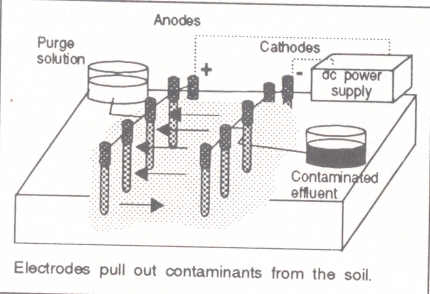 ELECTRICITY may soon be used to clean up chemical-contaminated soils using a new technology, which has been developed by scientists at the Massachusetts Institute of Technology (MIT).

The technology, which is expected to be put on trial by the end of next year, will cost about $25 per tonne. Current techniques for cleaning soil, such as excavation and pumping, costs an average $150 per tonne (Science, Vol 260, No 5107).

The MIT scientists used low-voltage electrodes inserted in the soil to suck up impurities by magnetic force. There are two methods by which this can be achieved. The first, called electroosmosis, takes advantage of the fact that many pollutants dissolve in the water in the soil, making the water positively charged. So, if a negatively charged electrode is inserted into the soil, it attracts the positively charged water, together with the pollutants dissolved in it. The rest of the soil, which is negatively charged, is left behind, purified.

The other method -- electromigration, which is simply the transportation of an ion in a solution -- is suited to coarse soils containing toxic metals, where electroosmosis is ineffective. In this technique, the contaminants are soaked up at a slower pace, ion by ion, and on reaching the electrode, flushed out with water.

"Between them, the two techniques can do about 95 per cent of the cleaning," says project head Ronald Probstein. Also, the new technology is better for the environment as compared with conventional methods such as the excavation-and-incineration technique, in which contaminated soil is dug out and placed in an incinerator to burn off the pollutants.

However the new techniques are exceedingly slow -- depending on the number of electrodes used, they can take from a few months to a year.
Related Content