Wood headed proposal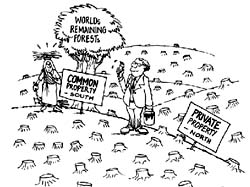 INTERNATIONAL NEGOTIATIONS ON FORESTS
Intergovernmental Panel on Forests set up in 1995
Intergovernmental Forum on Forests set up in 1997
Forest diplomacy Forest trade, particularly of finished wood products, is dominated by a few Northern countries in both exports and imports. Their timber lobbies have prevailed upon their governments to keep the convention issue alive on the global agenda by creating high-level intergovernmental panels to forge consensus among countries in international forest policy.

- Pre-Rio negotiations centered on the need for a convention for managing the world's forests. Non-agreement led to the intergovernmental panel on forests (ipf ), set up in 1995 for two years to look into a number of forest issues, including the possibility of a forest convention.

- The two-year ipf was replaced by the intergovernmental forum on forests ( iff ) in 1997. The iff has been no less preoccupied with the convention issue. It has held three meetings in three years, dominated by debates on 'sustainable forestry' and 'green' forest products, and will submit its final report to the Commission on Sustainable Development in April 2000.

- Proponents of the convention push a system of legally sanctioned global criteria and indicators to define 'sustainable forestry' to lay down a global definition of 'green' wood. This would allow them to meet wto requirements of eco-labelling on the basis of a multilateral agreement.
Challenges ahead The fight is between those who want a global forest policy and those who believe that forests are community resources.

- If a forest convention materialises, forestry of local people would be pitted against large plantations of the forest industry.

- For opponents of the convention, the challenge is to fight a centralised system that will undoubtedly define criteria for 'sustainable forestry' on the basis of business interests.

- The South will have to insist that any global criteria scheme for sustainable forestry must include, as an indicator, the involvement of local communities. None of the current certification and indicator schemes insist that 'sustainable forestry' also involve management practices of local communities.

Problem
The world is divided into two groups: those who want an international legally binding convention on the management of forests and those who do not. After almost ten years of negotiations, the issue remains controversial and refuses to die out.

At Rio, Southern countries such as India opposed a convention on forests because it would impose the Western model of forest conservation on Southern countries. Systems of management were as diverse as the types of forest in the world, they said.

The lines of opposition have become blurred post-Rio, with the US joining the opposition and Southern countries such as Malaysia, the third largest exporter of logs, joining the demand for a convention.

One thing is now clear, however. The North wants a convention to protect its timber trade interests, not the forests of the world. Countries like Canada and Finland want a uniform international definition for 'sustainable' or 'green' wood, which would give their industry an advantage in the global timber market.
Related Content