Industrialists up in arms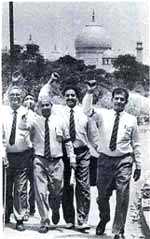 HUNDREDS of industrialists in Agra recently held a demonstration in protest against a Supreme Court order that polluting units near the Taj Mahal be relocated and tried to gherao the monumernt. However, police barricades prevented the over 500 affected industry owners from Agra, Firozabad, Mathura and Bharatpur from laying siege to the monument.

The industrialists, who assembled on April 27 under the banner of the recently formed Taj Trapezium Sangharsh Samiti, claimed that they had collectively spent about Rs 14 crore in installing anti-pollution equipment. They accused the government-owned Mathura Oil Refinery in the area for causing over 55 per cent of the pollution.

In a memorandum addressed to the country's President and submitted to the district magistrate, the industrialists stated that atmospheric sulphur dioxide levels had shot up although no new industial units had come up in the city since 1981 and none of the older units had been expanded.

The protestors recommended that instead of relocating the industries, natural gas fom the HBJ gas pipeline be diverted to these industries to replace the polluting coal-based fuel they now use.
Related Content