Australia`s Labor Party scraps ban on new uranium mines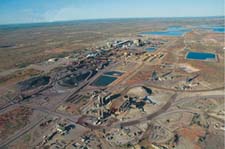 Australia's Labor Party scrapped its 25-year ban on new uranium mines at its recent national policy conference in Sydney.

In a media release, the party said it had "removed its current ban... while reinvigorating safeguards on its use and safety measures for workers'. The party, however, maintained its opposition to nuclear power.

Australia holds about 40 per cent of the world's uranium, but lags behind in production since the Labor Party has capped the number of mines at three. The party, though in opposition at the centre, is in power in all states and territories. Premiers of Western Australia and Queensland, which hold most uranium reserves will, however, continue to oppose new uranium developments. The policy came just as prime minister John Howard announced plans to boost the country's uranium industry, ahead of the national election this year.