Brazil battles yellow fever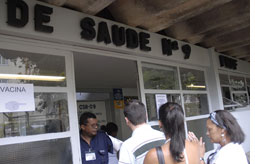 Brazil is battling an outbreak of yellow fever. The haemorrhagic illness, which is endemic to the region, has already killed eight people since the beginning of the year, the health ministry confirmed on January 19. With this, the death toll from yellow fever crossed that of 2007, when only five people died. The government, however, says there is no risk of an epidemic.

Meanwhile, millions of people, fearing a resurgence of the deadly disease, are lining up hospitals to get vaccinated. The health ministry has already distributed 3.2 million doses of yellow fever vaccines to states. It has also said that only those who are going to high-risk areas or tourists arriving in the country, from six-months-old upward, need to get the anti-yellow fever immunization.

The panic has had a surprising side-effect: 31 people in the country have been hospitalized for overdose of the yellow fever vaccine.More than half of Brazil's 27 states are partially or entirely yellow fever risk areas, including the Amazon and the capital Brasilia.

Related Content