Mapping the danger zone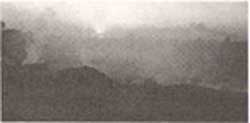 In the the first survey of its kind in the country, the Hyderabad-based National Remote Sensing Agency (nrsa) has prepared detailed maps of the underground fires that have raged in the Jharia coalfields for most of this century. A scanned survey of 6,000 ha at the heart of the area, conducted earlier this year, revealed no less than 51 fire locations.

The nrsa used infrared imaging techniques for collecting thermal profiles, which were digitally processed and provided a record of variations in mine temperatures. Based on these observations, the nrsa report submitted to the Union government in September recommended that the Jharia coalfields be categorised as a "fire zone".

nrsa scientists recorded traces of dormant and fresh fires and concluded that the combustion of coalfields is likely to accelerate in the near future. Officials at the Union mines' ministry have reportedly asked nrsa to conduct a more broadbased survey of the environmental impact of the Jharia fires, including precise estimates of the of the gases emitted because of the combustion such as carbon monoxide, sulphur dioxide, as well as unburnt carbon. The study, according to them, may turn out to be the bedrock of a new regulatory framework for open cast mining in India.
Related Content