North korea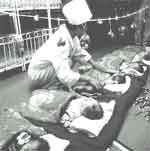 Continued food shortage in North Korea has made its population susceptible to disease. The Geneva-based Inter-national Federation of Red Cross and Red Crescent Societies has sought a us $14.3 million aid to run all 700 hospitals and clinics in North Pyongan and Chan-gang provinces for a year. This assistance would help provide medical facilities to nearly 2.25 million people.

According to the Red Cross, hospitals and clinics in the country lack proper drugs and equipment, and are not in position to treat patients except with herbal remedies. It has warned that if appropriate measures are not taken, the total healthcare system would collapse and will lead to epidemics.

This is the first time the Red Cross has shifted its focus from deliver-ing food to healthcare problems. North Korea had sought help from the Red Cross to cope with massive flooding that devastated crops in 1995.

An assessment team that visited North Korea recently has found that shipments of food have helped avert the food crisis. Now, the team has identified healthcare as its new priority. The Red Cross and several aid groups have found that most of the hospitals and clinics are empty. The non-availability of medicine has made several patients return home untreated.

Apart from seeking help to rebuild the healthcare system, the Red Cross has also appealed to provide food to 330,000 people and blankets, clothes and coal to 15,000 families in the provinces.
Related Content