International body set up against golf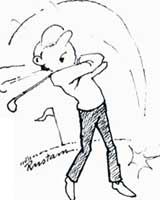 THE LAUNCH of the Global Anti-Golf Movement was announced by representatives of anti-golf environmental movements from various Asian countries, who met in Penang in Malaysia, soon after the three-day Golf Course and Resort Development Conference in April. The meet was sponsored by the Japan-based Global Network for Anti-Golf Course Action, the Asian Tourism Network of Thailand and the Asia-Pacific People's Environment Network of Malaysia.

A spokesperson of the organisation says, "Golf courses are another form of monoculture, where exotic soil and grass, chemical fertilisers and fungicides are imported to substitute natural ecosystems. In addition to environmental damage, golf courses deprive local communities of water and other resources and often lead to their physical displacement. While golfers the world over have reacted to environmental protests by announcing the promotion of pesticide-free, environmentally-sensitive golf courses, no such course exists to date."
Related Content