The embankment war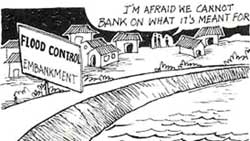 If the mid-August assault on some officials of the Bihar water resources department, on an inspection tour of the eastern Kosi embankment in Saharsa, is anything to go by, flood control officials in the state face an unenviable future. The attack was triggered by the villagers' perception that embankments were responsible for the recent floods and the ensuing misery.

And Saharsa is not the only part of Bihar where villagers are becoming increasingly angry with what has come to be known in the state as the embankment mafia. Nawal Kishore Rai, a legislator from Sitamarhi district, alleged that though the embankments in his constituency had already cost Rs 200 crore, they had failed to protect the people from the floods. He says, "New embankments mean new disasters and they should be immediately stopped."

To add to the predicament of the officials, people in Nepal are also up in arms against them, alleging the problem of floods in their country has been heightened by the Bihar embankments. As a measure of their rage, they broke a structure called Hawa Mahal, on the eastern embankment in August.
Related Content
Affidavit filed by Raja Muzaffar Bhat regarding pollution of river Doodh Ganga and Mamath Kull, Srinagar and Budgam districts, Jammu & Kashmir, 23/05/2023
Counter affidavit on behalf of West Bengal Mineral Development & Trading Corporation regarding desilting of Subarnarekha river, West Bengal, 16/08/2022
Judgment of the National Green Tribunal regarding illegal sand mining in the sand embankment of river Baitarani, Odisha, 05/08/2022
Reply by the Jammu & Kashmir Environment Impact Assessment Authority on grant of EC for minor mineral block, village Lalgam, district Budgam, Jammu & Kashmir, 26/06/2022
Rejoinder by Sarang Yadwarkar to the NGT on Mutha and Mula-Mutha river rejuvenation project, Pune, 21/02/2022