J&K s Wullar lake rid of encroachments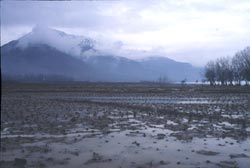 the Jammu and Kashmir government launched a major eviction drive to remove encroachments from the catchment area of Wullar lake in Baramulla district. A vast piece of land was cleared in Magnipora village. But in the face of stiff resistance, the police and paramilitary forces had to burst dozens of teargas shells and even fire in the air to get the tract vacated. Fortunately there were no casualties.
The authorities allege that the "encroachers' had grabbed an estimated 250 hectares of land straddling the lake. The people were even cultivating paddy on the land. The state administration has justified the use of force, claiming that the people did not heed its advice to shift out. "Villagers have taken advantage of the law and order problem in the state and occupied hundreds of hectares of state land in the catchment area,' states Abdul Rasheed Wadoo, chief conservator of forests, Kashmir.

However, those driven out are feeling betrayed. "We have been cultivating paddy on this land for ages. Nobody questioned us before,' points out Ghulam Mohommad Dar of Magnipora, adding: "The government did not serve any eviction notice. Instead, it threw us out forcibly.'

Government sources aver that the 13-year insurgency period has seen encroachment activity booming. The state government appears to have adopted a tough stand on the issue. "We have submitted a proposal to the Union government seeking funds to erect barbed wire around the reclaimed land,' said Wadoo. On his part, the deputy commissioner of Baramulla, Naveen Chaudhary, said that there would be no let-up in the drive against encroachments.
Related Content