Charles Taylor made rebels eat enemies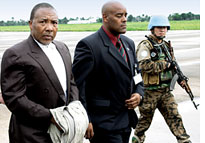 The former Liberian President Charles Taylor ordered militias to eat the flesh of their enemies, a former death squad leader has told during his war crimes trial.

Joseph "Zigzag' Marzah said Taylor had instructed his fighters in Liberia to eat un peacekeepers to "set an example for the people to be afraid'. According to the former fighter of the National Patriotic Front of Liberia, Taylor also preyed on human hearts.

Taylor, who was overthrown fiver years ago, is currently in detention at the International Criminal Court, The Hague, the Netherlands, where he faces trial by the Special Court for backing rebels in Sierra Leone in an 11-year civil war. His trial was moved from Sierra Leone because of fears that it could lead to renewed instability in the region.