Nigeria slaps heavy duties on old computers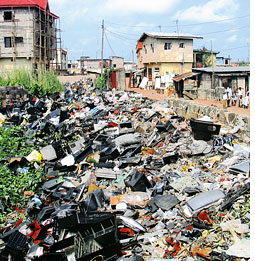 To avoid being turned into a dumping ground for e-waste, the Nigerian government has decided to slap duties on old computers imported for spare parts. Much of the unwanted material is dumped. It is toxic waste.

The decision was made at the federal executive council's meeting in Abuja.

At present, importers are allowed to ship in old computers duty free. There is a growing market for computers and other information and communications technology equipments. But since Nigerians are financially hard-pressed, they mostly depend on affordable second-hand equipments or electronic spare parts.

"The action became necessary because the discarded parts are found to have hazardous contents posing environmental and health risks,' said the minister of information and communication, John Odey. "The plan is to make it expensive to bring in old computers before placing a complete ban on them,' said Odey.

In absence of proper waste management facilities, burning huge piles of refuse is a common practice in Nigerian cities. A recent study by the Basel Action Network, a coalition of international ngos working on toxic wastes, shows that a minimum of 100,000 computers are cleared at Lagos port every month.