Shell under fire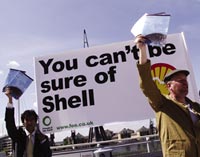 Representatives from communities around the world turned up in droves at oil giant Shell's annual general meeting (agm) in London. They were demanding justice from the company which, they alleged, was causing severe health problems and environmental damage from Nigeria to Texas, and from Sakhalin to South Africa.

Upon being thus confronted, Shell directors promised to visit some of the affected areas. Challenged by Durban community activist Desmond D'Sa, company chairperson Ron Oxburgh said that he would see for himself the extent of the damage caused by the company in Durban. Shell stands accused of operating to lower standards at its Durban refinery, where leaks and gas-flaring are regular occurrences. Activist Hilton Kelley from Port Arthur, Texas, was also assured of remedial measures by the company and duly placated.

However, when Patrick Naagbantan of Environmental Rights Action asked what had happened to the us $70 million reportedly spent by Shell on community development in the Niger Delta, he did not receive a satisfactory response. Incidentally, oil spills and gas flares dominate the landscape in the region.
Related Content