It`s rubber now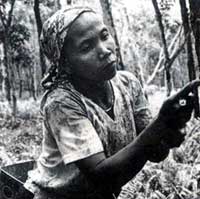 MALAYSIAN authorities, still irked by the costly campaign they had to wage in the US to revive their palm oil export trade (Down To Earth, August 15, 1993), are livid because the Food and Drug Administration (FDA) in Washington is being reported to require by the year-end that all latex-based medical products carry an expiry date and the warning: "Caution: This product contains natural latex rubber."

The FDA action is said to be prompted by findings that about 7 per cent of surgical personnel are allergic to proteins found in natural rubber-based products such as surgical gloves. Malaysia is the world's leading manufacturer of such gloves and their export accounts for 60 per cent of the $69 million the country earns each year from latex-based products.

Says an exasperated Winston Wong, president of Malaysia's rubber gloves manufacturers association, "We export about half of our gloves to Europe and we do not have this problem on the European side."
Related Content
Order of the National Green Tribunal on Indian Synthetic Rubber Private Limited, Panipat, Haryana, 29/04/2022
Final report by PPCB on management of scrap at Mandi Gobindgarh, district Fatehgarh Sahib, Punjab, 01/04/2021
Order of the National Green Tribunal regarding pollution caused by tyre retreading, Ganesh Nagar, Pune, Maharashtra, 10/11/2020
Order of the National Green Tribunal regarding burning of plastic in villages of Mundka, Nangloi, Neelwal, Kamruddin Nagar, Ranhaula, Tikri-Kalan, Delhi, 20/07/2018
Performance and emission characteristics of a diesel engine using rubber seed oil and its diesel blends