BRAZIL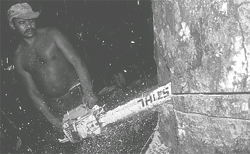 The Brazilian government has launched a campaign to monitor illegal logging and fires that are destroying the Amazonian rainforests. The government's environment agency, ibama, has joined hands with the army to save the precious reserve.

Six army helicopters will assist ibama in surveying the major deforestation zones in central Brazil, an area more than twice the size of France. The operation, that will continue till November 1999, will involve some 360 inspectors and cover a stretch of 1.4 million sq. km across seven states, ibama president Marilia Marreco told reporters recently.

The operation coincides with the peak period of the dry season in Brazil, when farmers traditionally burn land to prepare it for planting ahead of the rainy season. This frequently triggers forest fires. However, the good news is that the number of hot spots is decreasing, Marreco said, adding satellite images showed that 2,623 hotspots in July this year, down from 7,316 in the same month in 1998.
Related Content