Healthy ruling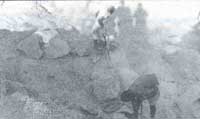 Industrial workers need sell only their skills, not their health. A landmark Supreme Court verdict says that the right to occupational health falls within the meaning of Article 21 of the Constitution, which guarantees the right to live with dignity.

The ruling by a three-judge bench came in response to a public interest writ filed by the Ahmedabad-based NGO, the Consumer Education and Research Centre (CERC), pleading for the Court's intervention in ameliorating the abysmal health conditions of the thousands of workers chronically affected by asbestosis.

The Court directed all companies and factories producing or trading in asbestos to start paying compensations to any past or present employee suffering from asbestosis. These employees can now also avail of the National Institute of Occupational Health's (NIOH) diagnostic facilities. Confirmed victims would have to be paid a compensation of Rs 1 lakh within 3 months of the certification by NIOH.

The Court has ordered that the manufacturers will have to compulsorily maintain medical records of their employees up to a period of 40 years from the beginning of the latter's service, or till 15 years after retirement.

The Court has also directed the Union and state governments to review the current exposure standards in the asbestos industry, with a view to establishing far more stringent norms.
Related Content