Irrigation aid for India stopped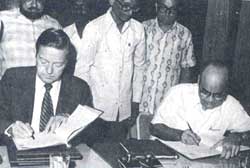 THE UNITED States Agency for International Development (USAID) stopped assistance for irrigation development projects in India with effect from September 15.

Sources attribute this measure to the gradual shifting of US attention to areas such as health and population control and agriculture -- specifically food processing. Some observers feel irrigation development is no longer "fashionable" as it was in the '1960s and the '1970s and USAID often went in for "topical" areas.

USAID sources, however, maintained it was facing a "resource crunch of sorts" and the withdrawal should be seen only as a reallocation of resources to where they are required more urgently -- in India as well as in other countries." But an official response was not forthcoming.

USAID's involvement in India's irrigation development dates back to July 1978 with its assistance for the Gujarat medium irrigation project. Since then the agency has given over US$ 350 million as aid for minor and medium irrigation projects mainly in Gujarat, Rajasthan, Maharashtra, Madhya Pradesh and Himachal Pradesh. USAID helped in establishing 11 Water and Land Management Institutes (WALMI) in India in collaboration with the World Bank. WALMIs will be the first to get affected as USAID had been providing all software assistance. According to an US irrigation expert in India, "As a result of the World Bank aid, WALMIs have a large infrastructure and as some of them are beginning to grapple with the problem of integrated land and water management, they have been left in the lurch."

USAID sources, dismissed it as an "unreasonable expectation" saying the purpose of the assistance had been "only to demonstrate how to do it right.... Our projects dispute the common belief that irrigation projects in India cannot live upto their potential." They also claimed that while most of the irrigation projects in India could not achieve a utilisation rate of 50 per cent even after 10-12 years of completion, USAID-aided projects had a utilisation rate of more than 80 per cent since the year of installation.

The Ford Foundation's water resources expert in India, John Ambler, however, said, "It is because of this reason that the withdrawal of USAID from the irrigation sector is unfortunate." Emphasis on user involvement in the project is said to be one of the reasons for USAID doing better in an area where many other international donors have failed.
Related Content