Malls in Ahmedabad violate green norms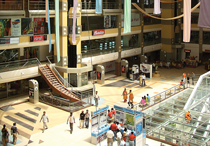 an ngo has asked Gujarat's pollution control board for details of the clearances granted to over 12 large-scale shopping malls in Ahmedabad. It has alleged that most of the malls in the city violate environmental norms.

The Ahmedabad-based ngo Paryavaran Mitra, filed a right to information rti) application on October 17, asking the Gujarat Pollution Control Board (gpcb) on what basis large commercial projects in Ahmedabad have been granted no-objection certificates. The ngo's move follows a recent environmental clearance given to City Centre Project by the Union Ministry of Environment and Forests (moef).

The mall-cum-hotel project, coming up in Vastarpur, a residential area, disregards a public hearing held on September 13, 2006, says Paryavaran Mitra. Project developer Alpha G Corporation Private Limited had said that the project would draw between 0.9 million and 1.5 million litres of water per day through four borewells. Since Vastarpur already has a low groundwater level and often faces acute water shortage, residents had opposed the project. The then district collector also barred the developers from extracting groundwater in the area. Despite objections, gpcb granted no-objection certificate to the project two months after the public hearing. The project secured the moef clearance on May 16 this year. Though the ministry has specified conditions such as maintenance of air quality, ambient noise levels, installation of sewage-treatment plant, use of solar energy, it is silent about the source of water supply to the project. "The project's public hearing compelled us to approach gpcb seeking information on other shopping malls in the city,' says Hiral Mehta, environmental engineer, Paryavaran Mitra.

The extent of irregularities probably warrant an application. On October 10, 2006, gpcb visited 12 commercial projects in Ahmedabad and issued them show-cause notices, since none of them had applied for environmental clearance. Only three have replied so far. Commercial complex owners of projects, namely R-3 Mall, Acropolis, Iscon Mega mall, Big Bazar, The Grand Mall, have not replied to the show-cause notice, says gpcb. In March this year, gpcb approached moef apprising it of various violations of Environment Impact Assessment Notification (2004) and requested it to initiate action against such projects. But no progress has been made on this front. Paryavaran Mitra says it will soon file another rti application with the Ahmedabad Municipal Corporation.