The Asia-Pacific disaster report, 2010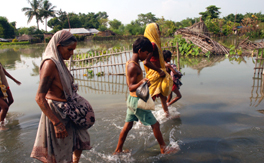 Countries in the Asia-Pacific are more prone to natural disasters than those in other parts of the world says this first of its kind regional disaster report launched at 4th Asian Ministerial Conference on Disaster Risk Reduction in South Korea.
People in the Asia-Pacific region are four times more likely to be affected by natural disasters than those in Africa and 25 times more likely than those in Europe or North America. This report notes that while the region generated one quarter of the world's GDP, it accounted for a staggering 85 per cent of deaths and 38 per cent of global economic losses due to natural disasters over the last three decades. As a region highly prone to natural disasters with disproportionate impacts on human development, and facing new threats from climate change, the Asia-Pacific region has surprisingly lacked a comprehensive regional assessment of disasters. The report considers the socio-economic impact of disasters, and suggests ways of reducing vulnerability to disasters to protect hard-won development gains. It emphasizes that disaster losses are linked to and exacerbated by poverty, and that the vulnerability of the poor stems from multifaceted socio-economic and environmental imbalances.
Related Content