US inflexibility on farm subsidies stalls Doha talks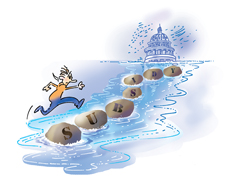 There is still no sign that the Doha round of talks on cutting farm subsidies and trade barriers are making much progress at ongoing talks in Geneva, with the us demanding that emerging countries make more decisive concessions. This is an unlikely circumstance given the us's intransigence over addressing market distortions caused by its bloated farm subsidies, which is being reinforced by the 2008 presidential campaign that is already underway and despite the fact that it's early days yet shows signs of being extremely acrimonious.

Brazil's foreign minister called talks "useless', while Union commerce and industry minister Kamal Nath was quoted as saying that "a substantial attitude change' was needed. Both walked away from an earlier round of talks on June 21 mostly due to the inflexibility of eu and us representatives on reductions in farm subsidies.

These subsidies have only grown since their inception. Permissible "market-distorting' subsidies in the us under the current World Trade Organization structure amount to roughly us $20 billion a year and are primarily targeted at soybeans, corn (maize), wheat and cotton. Another us $20 billion is spent each year on other subsidies and transfers, and import tariffs cost consumers roughly $10 billion more in inflated prices, according to the Organisation for Economic Cooperation and Development. The group also found that us farmers earn, on average, 16 per cent of their annual income from the government.
Missed chances The year 2007 had seemed the ideal time to reach an agreement. A June 30 deadline for the expiration of the us Presidential Trade Promotion Authority, an authorisation by the US Congress that permits negotiations on trade agreements, loomed over the talks and negotiations on the 2007 Farm Bill, the five-year law that controls agricultural subsidies and spending in the us, was being held so that the bill's components could match with facets of any new agreement.

But strong political forces conspire to keep agricultural subsidies in place despite international pressure. Both Republicans and Democrats are seeking to curry favour with farm voters. The Farm Bill was last up for review in 2002, with a congressional election looming. President George W Bush signed a $190-billion bill that increased spending by almost 80 per cent, mostly for subsidy programmes in agriculture.

The presidential race also highlights the state of Iowa, which is one of the first to vote in the system of selecting presidential candidates. These votes, called "caucuses' in Iowa and "primaries' in other states, play the deciding role in determining the nominees of each party, and Iowa's early position makes it among the most important. The state received 10.6 per cent of all farm subsidies from 2003 to 2005, a total of over $3.68 billion, according to data compiled by the Environmental Working Group, a Washington dc-based ngo. This makes reform or reduction of the farm subsidy structure a thorny issue in this highly contested state.
New opponents There is, perhaps, hope for future cuts. Traditional opposition from free-market conservatives touts data from the Business Roundtable, a ceo group, indicating that a one-third cut in global trade barriers would lead to an increase of us $2,500 each year in family incomes in the us. Prominent senator Richard Lugar, who represents the farm state of Indiana, co-authored an editorial calling for a reduction in subsidies that encourage overproduction, which harm emerging world markets by artificially reducing commodity prices.

Environmentalists also claim the subsidy structure creates a disincentive for green farming. Others have begun to push for a "healthy food bill.' Arguing that the farm bill's effect on prices helps determine what Americans eat, opponents of subsidies have pointed out that the real price of American fruits and vegetables rose 40 per cent between 1985 and 2000, while the real price for soft drinks and other unhealthy "junk' foods fell about 20 per cent, according to Hugh Joseph of Tufts University. A study by a University of Washington professor claims that this is due to the artificially depressed price of corn and soybeans, which are used to make high-fructose corn syrup found in sodas and other high-calorie and fatty foods.

But while subsidies are making American stomachs and farmers' wallets fat, the Doha talks are on a diet, with a full meal not in sight. Congress has refused to renew presidential authority to negotiate. For now, nothing will change.