Shelved for now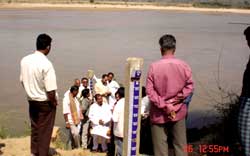 the cause of a fresh dispute between Orissa and Andhra Pradesh (ap) over the sharing of the water of Vanshadhara River has been put on hold. ap 's plan to divert the river water by cutting the right bank near Katraagada village, close to the interstate boundary, had enraged farmers in Orissa's Gajapati and Rayagada districts. They feared the project would decrease water flow on their side. Some parts of Orissa also faced the threat of submergence. Now, the two states have decided to constitute a technical committee to resolve the crisis. The committee will submit its report in three months; ap has agreed to halt work on the project till then.

ap intended to reroute the river's water through a 34-kilometres long main canal, with the help of two balancing reservoirs. The diverted water was to be stored in a huge reservoir at Hiramandalam in Srikakulam district. The project would have created about 10,000 hectares of new command area for irrigation. But following strong protest by Orissa's farmers, Orissa chief minister Naveen Patnaik sent letters to ap chief minister Y S Rajasekhara Reddy and the chairman of the Central Water Commission (cwc) against the project. Orissa charges ap with breach of agreement. "As per a bilateral agreement signed between the two states in 1981 for sharing Vansadhara water, the ap government should have informed its Orissa counterpart before taking up the project. Neither it intimated us about the canal project nor submitted any information to the cwc,' alleges Orissa's minister of state for water resource Rabi Narayan Nanda.

After Patnaik's letter was sent, a four-member delegation from Orissa met Reddy at Hyderabad to resolve the dispute. The two sides agreed that no work should be taken up on the project now. "We are particularly concerned about the nature of construction. If any structure resembling a check-dam is erected, it will submerge a large area on our side,' Nanda says. Despite a formal agreement signed way back in 1962 to equally share the 115 thousand million cubic feet water of the river, water disputes related to it have continued to haunt the two states.
Related Content