Minutes of the Expert Appraisal Committee (EAC) : Final recommendation on M/s Nirma Ltd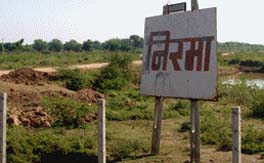 MoEF has accepted these recommendations of the Expert Committee on the controversial cement plant of Nirma Industries in Bhavnagar, Gujarat. Says that the plant is situated in an environmentally sensitive wetland area and the construction must stop.
Final recommendations of the EAC on the project M/s Nirma Ltd. to establish a cement plant at Padhiarka, District Bhavnagar, Gujarat. The EAC concludes that anthropogenic activity that potentially alters the hydrological regime or obstructs water flow into wetland/water body or affects the water quality should not be allowed within an area of influence close to the wetland/waterbody. There could be alternative sites enough in the vicinity that breed no contention.
See Also

Opinion: Water v Industry - where is the question.

Document: Show cause notice on suspension and revocation of clearance.

Feature: CSE welcomes environment ministry 'no' to Nirma.

In-court: Nirma cement plant in SC.

Report: Samadhiyala Bandhara land transfer.

Report: Shelat Committee report.

Document: Public hearing on Nirma.

Report: EIA for the proposed Nirma cement project.