Disappearing forests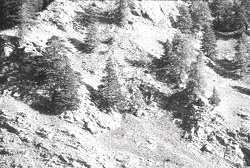 pristine coniferous and oak forests have been wantonly destroyed in the Kanasar forest division, about 70 km from Dehradun, in Uttar Pradesh. This was discovered by a team, comprising teachers and postgraduate botany students of the Delhi University (du), which conducted ecological studies in the region.

Besides jeopardising the fragile ecology of the region, the disappearance of these forests will have a direct impact on Delhi. "These forests are situated in the catchment area of the Yamuna. As it is the flow in the Yamuna is very low, and if the trees are felled continuously, there are chances the river will dry up completely,' says team leader C R Babu, director of the university's Centre for Environment Management of Degraded Ecosystems.

He is also alarmed by the lack of any effort at regeneration. "We did not find any young plants except in very few pockets in the area,' he said.
Related Content