Microscopic view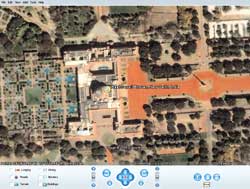 Popular search engine Google's free mapping programme, Google Earth, has been criticised by various governments, including India, which feel that the satellite images with resolution as high as one metre could pose a security threat.

India's apprehensions were first voiced by President A P J Abdul Kalam, who reportedly said that "developing countries, which are already in danger of terrorist attacks, have been singularly chosen to provide such high resolutions.'

The Google site contains clear aerial photographs of India's Parlia-ment building, the presidential estate, government offices and also Indian defence and nuclear establishments.

Malaysia, South Korea, Thailand, the Netherlands and the us too, have expressed their displeasure. In the us, Google removed or blanked out certain areas deemed to be susceptible to terrorist attack, such as the White House.

Google spokesperson Debbie Frost said that they took "governmental concerns about Google Earth and Google maps very seriously and welcomes a dialogue with governments'.

But experts feel that such objections are absurd, especially in the age of the global positioning systems. They say such space images have always been available commercially for a price. It's only now that Google has provided them for free. Also, these images have positive uses: can be used in planning, research, agriculture, mineral exploration, emergency, disaster relief, and resource mapping too.

But currently there is no global policy to prohibit foreign satellite images of a country from floating on the net.
Related Content