Lethal culling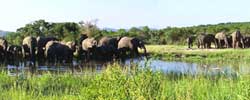 South Africa (sa), again wants to cull elephants, a practice it halted in 1994 in the face of public outrage.

Between 1967 and 1994 over 14,000 elephants were "removed' from the country's Kruger National Park by culling and over 2,000 relocated to other game reserves. Government scientists complain that the elephants are damaging the home and environment of other species. But according to environment and tourism minister, Marthinus van Schalkwyk, culling is a management option and not hunting. In this respect, a draft plan for elephant management is to be published for public comment by the end of this year.

Much opposition to culls are based on grounds of cruelty. Experts say the ecosystem shouldn't be tampered with and that the space left by the elephants would anyways be filled by other species. Alternatives to culls are relocation, contraception and expanding park spaces. But in an impoverished continent with growing rural population such options cannot go on indefinitely.
Related Content