Suzlon Group produces 54.8 meters long blade for the new generation S111 2.1 MW wind turbine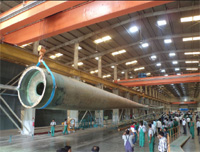 Pune, India: Suzlon Group, the world's fifth largest* wind turbine maker, today announced that it has successfully completed the production of its first blade for its best in class S111 2.1 MW turbine. The S111 is a technologically advanced product of the S88 and S97 2.1 MW family.
This product has been specifically designed for Suzlon's next generation 2.1 MW turbine and is engineered to deliver a 20% increase in AEP (Annual Energy Production) at the same hub height compared to Suzlon's S97 wind turbine model.
The S111 is built on the proven reliability of the S88 and S95/97 2.1MW family that currently has over 3100 turbines installed in fifteen different countries with over 68,000,000 operating hours. The blade is designed to harness the optimal available wind resources and deliver higher energy productivity, which in turn ensures higher ROI to customers. Suzlon turbines have been setting industry benchmarks across the entire technology value chain by meeting new standards.
• Suzlon Group completes the design & production of its first blade for S111 2.1 MW Turbine: the SB54 Blade
• Measuring 54.8 meters in length, the blade is ~80% longer than one wing of a Boeing 777
• S111 can deliver a 20% increase in AEP(Average Energy Production)
• Group stays firm to its commitment "Driven by Technology & Innovation"
Mr Laurens van der Sande, Project Manager, S111/SB54 blade said: "The first SB54 blade is the longest and cleanest aerodynamic profile Suzlon has ever produced. This milestone has been achieved due to an effective integration between the product design, production unit and the tool design. The result is reflected in a shorter production timeline with a high yield product.
This innovative product is a testament of our unique integral design approach and our rigorous New Product Development Stage Gate Process. We have surpassed our last three power curves and expect the S111 to follow the same suit".
Mr Tulsi Tanti, Chairman – Suzlon Group, said: "We believe in offering optimal energy solutions to our clients, which is why we continue to leverage on our technological edge and create products that derive maximum energy yield. The S111/SB54 blade is based on previous Suzlon designs with innovative and optimized improvements.
The turbine design makes it ideal for low wind sites in growth markets like the US and India. We stand committed to offer new age products and best in class services that to deliver high energy yields products."
The first S111 turbine prototypes are being assembled and will be erected and tested later this year in India and in the USA. Certification is expected in the first half of 2015.
Suzlon Energy Ltd., which commenced operations in India in 1995 with just 20 people, has now grown into one of the major global leaders in the wind power industry. Suzlon Group is ranked as the world's fifth largest* wind turbine supplier, in terms of annual installed capacity and market share in 2013. The company's global spread extends across Asia, Australia, Europe,Africa and North and South America with 24,726 MW of wind energy capacity installed with operations in over 31 countries and a workforce of ~10,000. Know more about Suzlon http://www.suzlon.com