Saleli quarries ordered to close down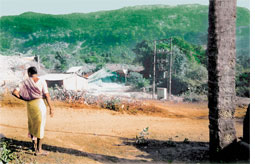 the polluting crushing units in Goa's Saleli village are facing a legal grind. On October 29, 2007, the deputy collector of Bicholim ordered all 13 quarries and crushers in the village to stop operations till they followed environmental regulations. The deputy collector has also directed the units to restore a drain near the village which the units had polluted. They were also directed to remove the dust which reaches nearby fields. The collector's decision came after the Goa State Pollution Control Board (gspcb) submitted a report to him, saying the units failed to abide by the Environment (Protection) Rules, 1986. Continuing pollution from the units had forced the villagers to complain to the deputy collector in November 2005. Then came violent protests, and a month later the agitator allegedly murdered a local miner and the deputy collector issued a conditional closure order in January 2006. The quarry owners approached the court to restart operations.

Closed for about two years, the units resumed operations on October 24, 2007, for an official inspection under the directions of the Bombay High Court. gspcb has so far inspected 10 crushing units. "The units are required to follow the dust regulations issued by the Central Pollution Control Board,' says Ashok Dhaijawan, member secretary, gspcb. "The remaining three units could not be monitored as they belonged to the miner who was killed,' he adds.

The pollution control board is expected to submit its report to the high court in the first week of November. Over a thousand villagers in Saleli are hoping the crushing units will not be allowed to start function once again.

Related Content