Worst hit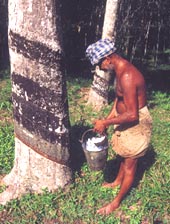 the recent Supreme Court (sc) order revoking the ban on the import of natural rubber under the Advanced Licence Scheme (als) has split the sector down the middle. While it has spelt gloom for over 10 lakh small and marginal rubber growers nationwide, the recent sc directive has been welcomed by the rubber-user industries.

In view of a steep fall in domestic rubber prices during 1998-1999, the Union government had banned imports under als in 1999. Imports under als are made on condition that the raw material thus imported will be value-added and will be exported later. "The clampdown gave a much-needed boost to the domestic natural rubber market. The per kilogramme price of graded rubber sheet increased from Rs 26.75 in February 1999 to Rs 48.60 in March 2003,' points out S M Desalphine, chairperson of the Kottayam-based Rubber Board.

E T Varghese, secretary, India Rubber Dealers' Federation, attributes the plunging domestic rubber price to the import of nearly 1,55,000 tonnes of natural rubber under the als from 1995 to 1999. Rubber is imported from Sri Lanka, Malaysia and Indonesia. "Kerala's small rubber growers will perish again,' he warns, reacting to the verdict. A similar fate awaits rubber farmers of Karnataka, Assam and Tripura.

On their part, tyre and rubber industry representatives have a different viewpoint. "When advance licence import of natural rubber is less than three per cent of the domestic production, it cannot be the main reason for the low prices in the domestic market,' contends Alex Varghese, president, South India Association of Tyre Manufacturers.

The sc has upheld the Bombay High Court's September 2002 order declaring the ban imposed by the Directorate-General of Foreign Trade (dgft) on duty-free import of natural rubber through als as null and void.
Related Content