Strange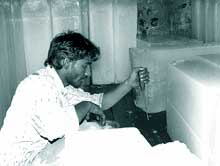 theAhmedabad Municipal Corporation (amc) and the Gujarat Pollution Control Board (gpcb) have locked horns over the shifting of ice factories and cold storages outside Ahmedabad city. Following incidents of ammonia leakages from these units, the amc recently issued notices to their owners for relocating them outside the city within three months. But when the gpcb 's opinion was sought on the matter, it said the relocation was not needed because these units were not included in its list of polluting industries. There are more than 120 ice factories and over 25 cold storages that use the harmful ammonia gas in Ahmedabad.

gpcb member-secretary Sanjeev Tyagi confirmed the board's stance: "We have not included them [ice factories and cold storages] in the list of polluting industry.' But the gpcb did say in its letters to the amc and the state health department that the said units could be asked to relocate outside the city on health grounds. However, the amc charges it with giving the industry an excuse for not relocating. "After some incidents of leakages from such units, we decided to ask them to relocate outside the city. We also issued notices to them. But after getting a clean chit from the gpcb , they have just ignored the notices,' rues a senior official in amc' s environment section.

Owners of these units have decided to not succumb to the amc' s pressure. They claim that they follow all environmental norms. Mehul Patel, who owns an ice factory at Maninagar in the city, says: "The amc is unnecessarily raising the issue in the name of environment. We are not a polluting industry.' These owners also argue that nearly 4,000 workers will lose their jobs if they relocate their units outside the city.
Related Content