Thames water misses official leakage control targets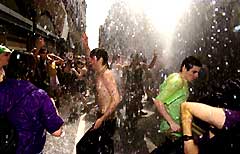 Thames Water, the uk's biggest water company, has once again missed its official leakage control targets, despite growing pressure on water resources in Southern England and continuing drought in the region.

This is for the third consecutive year that the company has missed its targets, as set by the water industry regulator Ofwat and still loses 896 million litres of water through leaks each day. Reducing wastage of water through checking leaks is actually more urgent given the current drought in the company's supply area as well as dipping water level in the Thames lake due to below average rainfall for two consecutive winters. Thames Water, instead, puts the blame on a combination of factors: London's ageing pipes as old as 150 years, difficult terrain and the problem of repairing and replacing pipes without causing traffic gridlock. Already imposing a hosepipe ban on its domestic customers, the company now seeks a drought order, which would allow it to impose draconian cuts on water use.