National waste for MNCs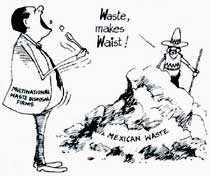 MEXICO'S woefully inadequate environment conservation infrastructure has been a boon for multinational waste disposal firms. Over 40 such companies have opened shop in Mexico City, including leading international firms such as Chemical Waste Management.

The revenues of the Mexican subsidiary of the company rose by 40 per cent last year as the government clamped down on those violating disposal norms. This prompted Chemical Waste to spread its wings. It plans to establish a toxic waste disposal site in Mexico.

Indigenous companies are also investing heavily in waste minimisation or devising ingenious disposal methods. Jorge Martinez, head of the steel manufacturing company, Grupo Sidek, says that his firm sells waste to a cement company that uses it to fire its kilns.

Investment in waste disposal projects has, however, lagged behind because small and medium-sized companies cannot afford to invest in environmental conservation technology. According to government estimates, Mexican industry generates around 6 million tonnes of toxic waste annually. However, the installed capacity for treatment is merely about 200,000 tonnes. The country has no commercial toxic waste incinerators, only one authorised toxic waste site and few modern solid waste treatment facilities. This results in waste flowing into rivers, the sewage system or empty fields. The dearth of proper infrastructure has sent waste disposal costs soaring to between $200-$300 a barrel, prompting small businesses to violate the law.

However, all this has not deterred the government from clamping down on offenders. In the last 20 months, 1,577 industries were forced to close shop for excessive air or toxic waste emissions. The government has also increased the number of its environmental inspectors from 100 in 1989 to 500 and carried out inspections in 21,996 companies between August 1992 and March this year, against a mere 1,380 throughout 1989.

And although critics say that Mexico lags far behind the US in technical expertise and equipment of the inspectors, it is catching up fast.
Related Content
blog comments powered by

Disqus