Not here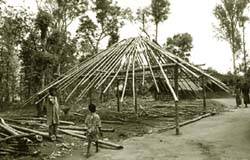 the Union government has asked the Karnataka state government to take over within 45 days a forest area leased to a subsidiary of the Taj Group of Hotels to build a three-star resort. The 6,356 sq m-area falls within the core zone of the Nagarhole National Park in district Kogadu. The state government will also have to submit within 60 days a report on the action taken against the officers responsible for the lease, which is a violation of the Forest Conservation Act, 1980.

The chief conservator of forests (ccf) of the ministry of environment and forests (mef), who represents the Union government in the states, in a letter dated May 28, 1998, has ordered the principal forest secretary S Swatantra Rao to cancel the 18-year lease to Gateway Hotels and Gateway Resorts Limited. Karnataka officials have been charged with misleading the state government despite being aware that the lease was a violation of law.

Certain claims made by the state government in response to a public interest petition filed against the lease have been termed as "factually incorrect' by the ccf . The submission of the state to the court over the status of the land to be leased, its location and the area to be diverted was reportedly wrong. The state government had submitted that the proposed lodge would be run using the existing building of a saw mill, which was closed in 1986. The ccf noted that the Karnataka Forest Development Corporation's ( kfdc 's) constructions between 1986 and 1989 had not been disclosed. Moreover, the actual size of land to be diverted for the project stood at 7,360 sq m, though the state government had quoted 6,356 sq m to the Union government.

The Mysore conservator of forests (wildlife) and the Hunsur deputy conservator of forests (wildlife) had certified that no violation had taken place. On the other hand, the kfdc had warned the state government that the Union government's consent was essential to lease forest land for private ventures.

Although the land in question fell within the core wildlife habitat (according to the chief wildlife warden), the state had argued that it was in the tourism zone. The ccf pointed out that the officials of the state government granted permission for the project without assessing the impact of the hotel on the environment. The ccf also took an adverse view of the claim that the hotel would not affect the wildlife, indicating that the proximity to the core area boundary and the increase in vehicular traffic would definitely have an adverse impact.

The lease was also found to be in violation of the mef's guidelines on ecotourism. These clearly point out that the only tourism activities which should be permitted should be the ones which are compatible with conservation efforts. The mef official noted that a separate tourism zone has to be delineated for this.
Related Content