Funds for more forests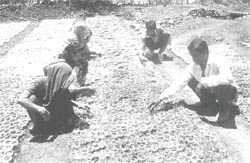 the ministry of environment and forests ( mef ) has proposed the creation of a banking institution in which various State Forest Corporations will have a holding. This would be done by drawing funds from the present State Forest Corporations and would not require additional expenditure.

Through this institution, funds could be acquired from the National Bank for Agriculture and Rural Development ( nabard ) for farm forestry. This would reduce the service cost of loan by at least two per cent. Further, it would enable the State Forest Corporations to make a quantum increase in plantation on degraded forestland, as credit would be made available at lower rates of interest, said T R Baalu, Union minister for environment and forests.

Speaking at a function in New Delhi, Baalu said the level of investments in the forestry sector needs to be enhanced from Rs 1,600 crores per annum to Rs 5,300 crores per annum to implement the National Forestry Action Plan.

The plan involves an agenda spanning 20 years for bringing one-third of of the country under tree cover. It aims to enhance tree cover over 40 million hectares (mha) of forest land and bring another 20 mha of non-forest area under tree cover through agro-forestry, farm forestry, block plantation and other similar methods.

Emphasising the need for people's participation in environmental protection, the minister said a mass awareness programme would be undertaken to convince people to appreciate the need for a safe environment for healthy living. He disclosed that seven cities would be developed as eco-cities in the country by adopting an integrated approach to ensure clean environment on a sustainable basis.

"Changing lifestyles have put severe pressure on our natural resources. Sustainability of the forest eco-system is an essential component of the environment conservation efforts. Degradation of forests will have an adverse socio-economic and environmental impacts," Baalu said.

Addressing the gathering, deputy chairperson of the Planning Commission K C Pant highlighted the need for making afforestation a people's movement in the country, so that more areas could be brought under forest cover. Observing that there is severe pressure on our limited natural resources due to growing population and increasing commercial activities, Pant called for maintaining a balance between development and the environment.
Related Content