Hyperactivity In Hypersea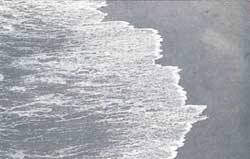 IN THE days when "information superhighway" is the buzzword, one may find it hard to believe that fungus may have already been leading the communication network of life on land, some 400 million years ago.

Mark A S McMenamin, professor of geology at Mount Holyoke College and Dianna L S McMenamin, an expert in paleobiology and geology, in their new theory called the "Hypersea"- tried to explain how life, in the early geologic time scale, moved from sea to land; and how the different life forms on land have diversified more than marine life. They argue that without fungi, the plants would never have come ashore, and hence trees would have been missing today.

A new conception of the surface of Earth, called the Hypersea, which comprises all plant and animal life on land, is the basis of this theory. In the sea, nutrients pass with relative ease among different organisms. But when life 1st invaded land it needed to evolve far more complex relationships to sustain itself. "As a result, life on land displays an extraordinary degree of connectedness -- to the point where it can be seen as 1, including terrestrial forms", the McMenamins argue.

Organisms, which are primarily from water, can interact at arm's length only in water. On land, direct physical connections become essential and so terrestrial organisms have had to build for themselves structures and components that could perform functions that marine life can take for granted.

To sustain life, there are certain chemical substances, like oxygen and carbon, which are distributed more efficiently by atmosphere than ocean. But to make available other essential elements, like phosphorus, calcium and magnesium -- nature has evolved a unique mechanism for the land life forms. This biotahas evolved a completely new kingdom of life -- the fungi.

"Without the intricate networks of the fungal hyphae (a single filament of a fungus) in the forest soils there may be no trees at all", claim the McMenamins. The merging habits of fungi and their unique capability to produce different enzymes enable them to surround the surfaces of tiny rock particles, extracting vital nutrients, and then supplying the tissues of the roots of trees to deliver the goods.

The researchers claim to have discovered some fungal specimens associated with fossil plants that are strikingly similar to those associated with modern plants. "In a number of cases, these fungi provide nutritive linkages between the roots of unrelated plants", they say. Mark and Dianna McMenamin predict that the minimum date for the origin of Hypersea is the early Devonian period on the geologic time scale (400 million years).

Therefore, the land organisms, by sheer necessity, evolved together as a greater interconnected and related mass of living cells. While moving out of the marine waters, "they took the sea beyond the sea, and folded it back inside itself to form the Hypersea", Mark and Dianna McMenamin add.

"The McMenamin geological perspective, displaying the fungal undergrowth upon which we all depend, deserves close consideration by scientists" says Lynn Margulis, professor in the department of biology, University of Massachusetts.