Crisis in Krishna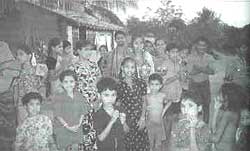 THE hammer and sickle insignia flashes on fluttering red flags over 'Porattu Nagar' (township of struggle), a conglomerate of 500-odd huts in an encroached forest tract near Kanimerla village of Krishna district in Andhra Pradesh. Repeated attempts of forest and police officials to evict the encroachers failed. They retreated in face of "imminent threat to life and property". Forest Range Officer of Nuzvid, Vijaya Kumar, and the forest personnel who surveyed the encroachments on September 8, 1995, were restrained and assaulted".

The encroachment was "sponsored" by the local unit of the Communist Party of India (CPI). Says CPI district executive committee member Jagannatha Rao, "Encroachments are justified when 40 per cent of the Villagers live in poverty." He boasts of about 607.50 ha to 8 10 ha of land being under illegal encroachment now. President , of CPI's Agricultural Labourers Union, Koteswara Rao, denies assault charges.

On October 25, 1995, in Bathulavarigudem forest block - which includes Kanimerla - about 800 villagers from Sunkollu cleared 16.20 ha of mixed forests. When Vijaya Kumar and a dozen police personnel went for a check, they found nearly 300 villagers engaged in clearing. Says Vijaya Kumar, "We tried to stop them and arrest at least the leaders. But the encroachers surrounded us and followed us to Nuzvid." They refused to give names. Says Vijaya Kumar, "If we arrested them, we were in no position to keep them in our custody." They were let off before the "situation became uncontrollable".

In Sunkollu's case, the patrons belong to the ruling Telugu Desam Party (TDP). Says TDP's ex-state committee member, Pratap Apparao, "There is no deer or rabbit in that forest. Only snakes. We want to give fruit-bearing trees to people. Our chief minister, Chandrababu Naidu is encouraging it." TDP'S local mp, V Shobhanadeeswara Rao had also issued a press statement that forest lands be given to the landless poor.

From October 20 to 30, 1995, 101.25 ha of plantation forest have been cleared in Rangapuram forest block in Krishna. Again, Koteswara Rao led the encroachment. "The encroachers are not even allowing the beat forest staff enter the forest with threat of dire consequences," says a forest department note. As lawlessness became the order, the area was put under section 144, prohibiting unlawful assembly. Still, encroachments continued.

In the mango-rich Krishna district, forests are the first casualty of cynical poll calculations and unstable state politics. Political shoguns of various hues - CPI, Congress, and TDP - find this district's forests, now covering just about 7.5 per cent of the land area, an easy dole. The encroachers are attracted by the prospects of getting a piece of land to live and a patch to cultivate mango, a moneyspinner cash-crop.

Encroachments are most rampant in Nuzvid forest range, with 12,812.87 ha of forest distributed over 20 blocks. The worst cases are Rangapuram and Bathulavarigudem forest blocks. With local party leaders' support, thousands are involved in encroachments. At Kanimerla alone, 700 families have settled in encroached lands.

"The trend shows that the pace of destruction has heightened of late," says Divisional Forest Officer, Krishna, C Suvarna. According to forest department statistics, in the past three years, 590.75 ha of forest land has been encroached upon in Nuzvid range alone - upto 1991, the figure being 3566.44 ha. Andhra Pradesh has a long history of illegal forest occupations. But largely, behind-the-scene operators were armed extreme leftist groups, with the mainstream politician's open involvement gradually assuming a brazen and disturbing hue over the years. Krishna has been a political hotbed since pre-independence days.

As for CPI, party policy since 1950 encouraged and supported encroachments by the landless poor. "In Krishna, 1,620 ha of wasteland, cultivable wasteland On terra firma: once encroachers, now Kanimerla's dwellers refuse to budge and degraded forests have been encroached upon and later assigned to people by the government," said Jagannath Rao.

As if not to be outsmarted, the Congress-I has also pocketed a few encroachments. There are even bickerings between CPI and the Congress over control of certain tracts. Nuzvid's mango crop covered 51,571.890 ha in 1992-93, and orchard owners reaped a profit of Rs 160 crore. An average villager possesing 4.05 ha, comfortably earns a profit of Rs 1.5 lakh a year. The first attempt of the Kanimerla encroachers after they settled down in 1993, was to plant mango trees, which were promptly destroyed by forest guards. Now they cultivate groundnut. In Sunkollu, beat guards were seen uprooting the encroachers' mango saplings.
Wasted wastelands
The extent of mango orchards and widespread irrigation facilities have left virtually no wasteland in this former stronghold of zamindars. Forest and police officials remain silent spectators to the onslaught. Says sub-divisional magistrate, Nuzvid, P A Shoba, that the situation has become too serious to be effectively controlled. Says subdivisional police officer, Nuzvid, V Venkateswara Reddy, "Nobody has told us not to take action. But the message is clear." The police force available in Nuzvid is no match for the highly organised encroachers, he says.

Now it is simply a game of passing the buck. Says Vijaya Kumar, "Cases do not get registered." Says Assistant Commissioner of Police, Vijayawada, who was earlier posted in Nuzvid, "Forest officials have to inform us when the encroachers enter the forest. Once they settle, evicting becomes difficult."

In a letter to the Superintendent of Police, Krishna, on October 28, V V Reddy listed several instances of encroachers' high-handedness:

On July 15, 1993, in Kanimerla, Koteswara Rao and four others "criminally tresspassed and cut the forest, and ploughed the land for cultivation". Although investigations began on reporting the matter, the case was defered due to political interference.

On September 6, 1994, and July 22, 1995, the police conducted eviction operation in Kanimerla. "But due to anticipation of imminent danger to life and property," the eviction was stayed.

The sponsors of encroachments conveniently find certain bureaucratic bunglings and loopholes in the Estates Abolition Act, 1948. Also, there has been massive communication gap between the forest and revenue departments. For instance, Kanimerla has been declared a reserved forest under section four of Andhra Pradesh Forest Act in July, 1978. It leaves scope for review by the Forest Settlement Officer on the basis of objections raised.

However, the post- independence transition towards land distributions in Krishna - an old zamindari stronghold - has not been streamlined even today. Often when the revenue or forest department were on regularisation moves, the people produced title deeds for lands issued by zamindars ages ago.

In Sunkollu, the matter has been further complicated by title deeds for forest trees issued by the government during 1986-89. Under the scheme, poor families were encouraged to maintain and protect fuelwood and small timber plantations against a monthly payment of Rs 450 and half the final harvest.

They then gradually encroached upon the forest tracts, and now enjoy their rights on so called humanitarian grounds. Political patronage and murky policies continue to encourage encroachments. Often, outsiders and party supporters have been found to grab forest patches.

The refrain of the leaders of the encroachment drives is that mostly, the encroached patches are degraded forests, lying fallow for considerable time. But in Sunkollu, forests contained teak, neem and a dozen-odd other species. In Reddigudem village, the destroyed plantation forest included many fast growing softwood species. Here the opinion is sharply divided along caste lines. Among the lower castes and the landless, the general trend is all for encroachment. Forest officials and NGOs in the region staunchly oppose the encroachment sponsored by political parties. NGO activists brand the politicians' logic that 'orchards are better than degraded forests, as too wide. Says T Haranath, chairman, Society for Human Integrity and Prosperity (SHIP), Nuzvid, "If the trend continues, whatever forest is left will also disappear." He also opposes any move for title deeds for forest lands. Says B S S Reddy, Conservator of Forests, Rajahmundry zone, "Politicans like Koteswara Rao are afraid that they will lose their hold if the crisis is resolved."

One way to keep people from illegally occupying forests could probably be planning attractive Joint Forest Management (JFM) projects. The JIM offers village communities, usufructory rights over the forest in return for forest, protection. The Vana Samrakshana Samitis can collect leaves, grass, fodder, twigs and half the harvest including timber and poles. SHIP has been asked to organise village meetings to promote JIM. Such a meeting at Puthur Tadepally village in Krishna, on November 20, 1995, was attended by hundreds of villagers.

The entire controversy has recently spurred some loud thinking among the authorities. It is widely felt that had the degraded patches been afforested earlier, the problem could have been avoided and a better forest-people interactive mode developed.
Related Content