Falling bricks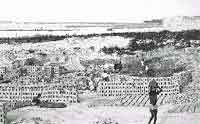 closure of brick kilns ( bhattas ) in the north Indian states of Bihar and Uttar Pradesh ( up ) by the Central Pollution Control Board ( cpcb ) due to poor environmental performance has generated a lot of unrest among kiln owners. On November 20, 1997, they held a large rally at Ramlila Maidan, New Delhi, protesting the cpcb directive to the respective state pollution control boards to close down all kilns that do not have specified pollution-control equipment. The rally was organised by the Association of Construction Material Manufacturers.

After the rally, the cpcb has given an extension of two years to the kilns to upgrade their technology to the specifications. At present, these kilns use coal, wood and agro-wastes as fuel and a 30-foot-high metallic exhaust.They mix sand and soil in a rectangular frame and burn it in a closed mud kiln. This causes air pollution and also renders the surrounding soil unfit for cultivation. Excessive extraction of soil for making bricks creates pits that cause water logging and soil erosion.

The cpcb suggests conversion of the chimneys into concrete, 32-metre-high chimneys with scrubbers or some other air pollution control equipment. The owners of the kilns complain that the cost of these modifications is quite high, considering most of these are small-scale units. The technology will only be supplied by the cpcb after two years. The owners will have to come up with all the money at one go, instead of small periodic investments. The kiln owners also resent the authorities treating kilns in urban as well as rural areas on the same level irrespective of their location, scale and economic differentiation.
Related Content