CNG two wheeler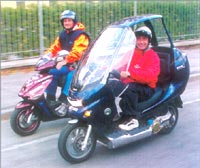 it is widely believed that two-wheelers are too small to carry bulky compressed natural gas (cng) cylinders and, therefore, cannot run on the gas. But this myth has been exploded by Roberto Rossi, a professor in an Italian educational institute. He has designed the first ever natural gas fuelled two-wheeler scooter.

The cng scooter, called Adiva, was developed by Rossi in collaboration with manufacturer Benelli and natural gas vehicle companies Lovato Gas and Faber Spa. Rossi's innovation was driven by the urgent need to remain mobile in some polluted Italian cities, such as Rimini, where car movement has been restricted.

But the drawing board-to-assembly-line journey of this scooter has not been all that smooth. Rossi had to grapple with many technological and design impediments. The immediate obstacle was to overcome the size of the cylinder. He solved this problem by placing the unwieldy component below the wheelbase.

Rossi also found a suitable pressure reducer, which brings down the pressure from 200 bar to 0.5 bar in the cylinders. As per the safety standards, these cylinders were tested for 300 bar pressure and have been designed to resist up to 450 bar pressure. Even as the cng kit and cylinder increased the weight of the scooter by 15 kilogrammes, the engine remained stable because the centre of gravity was lowered.

In case of collisions, a profiled metal plate and a footboard would protect the cng cylinders. The high-pressure piping has been taken care of with the installation of appropriate three-way valves. A microprocessor-based control panel flashes the residual gas pressure and gas feed switchover on the dashboard of the vehicle. This would enable the scooter driver to keep an eye on the operational parameters of the vehicle. A power-loss of around 10 to 15 per cent has also been reported.

Rossi's invention is certainly a breakthrough. It will also be beneficial in one of the most highly polluting vehicle segments in Asian countries.
Related Content